DINNING ON THE VALOR
BACK TO PREVIOUS PAGE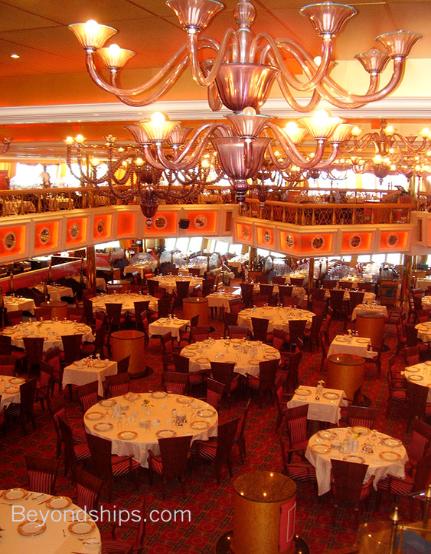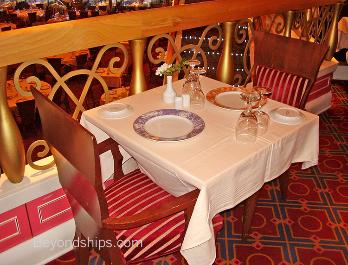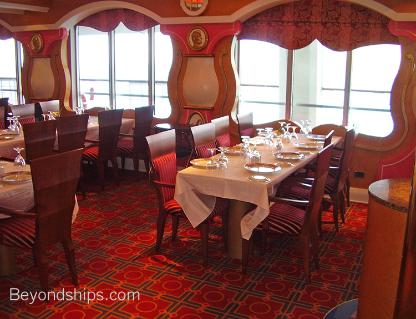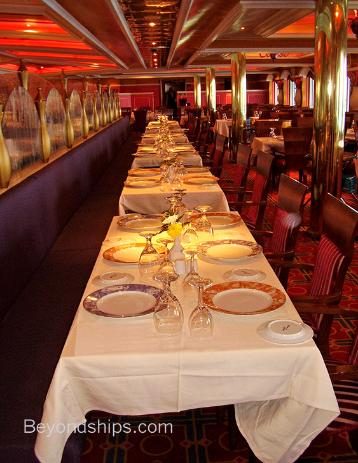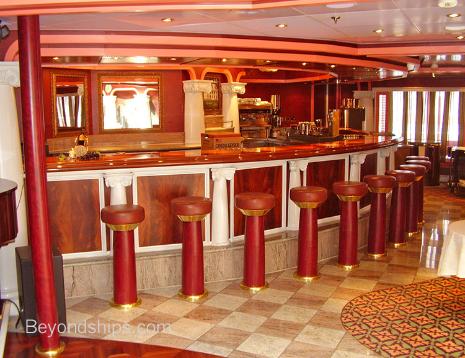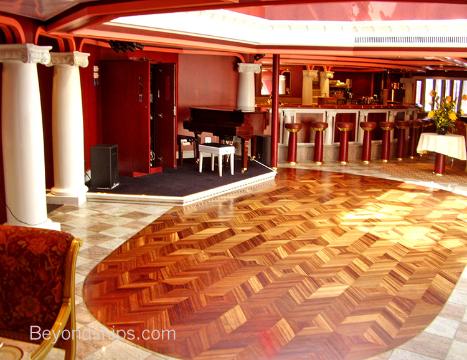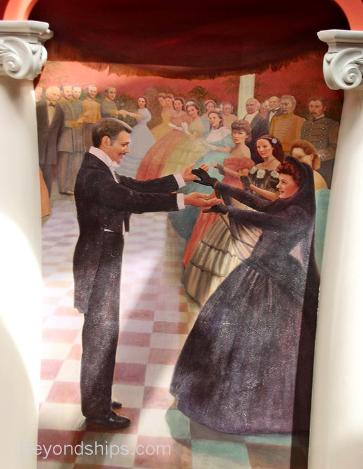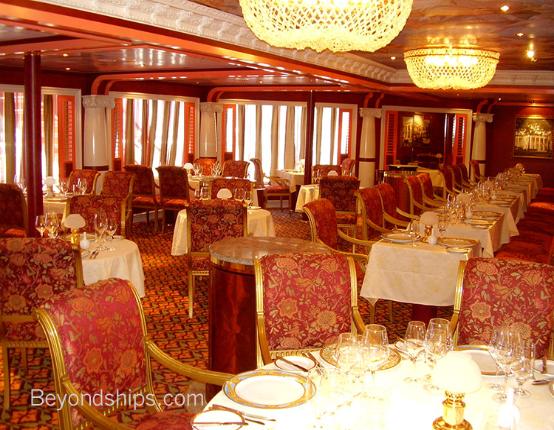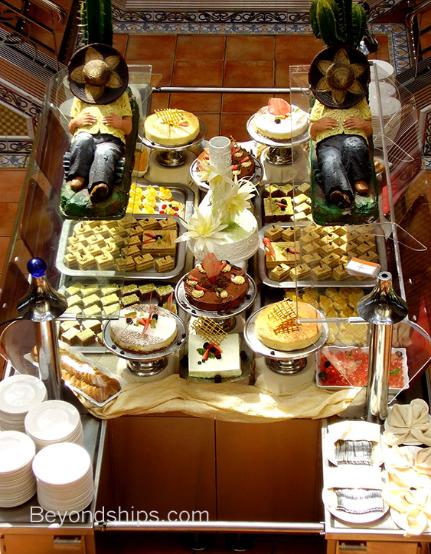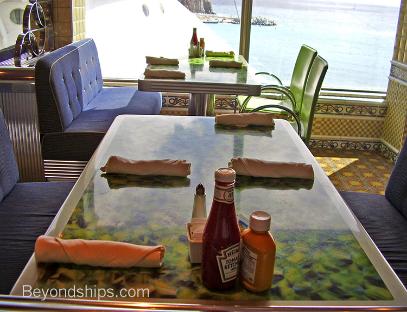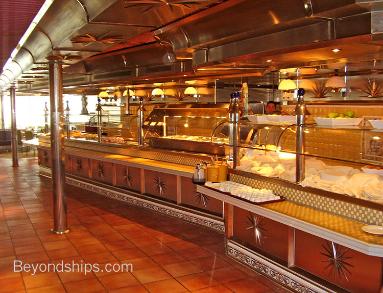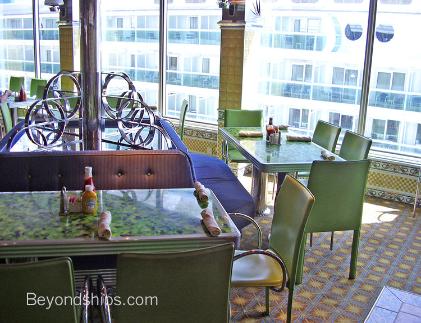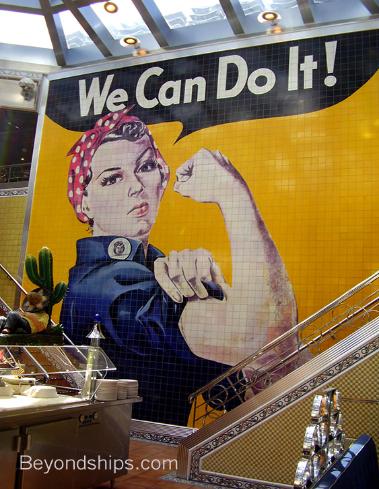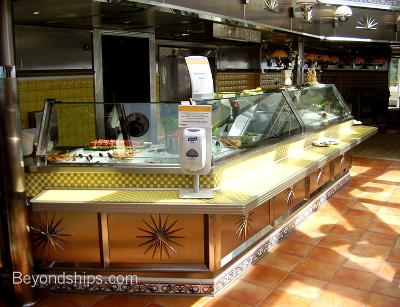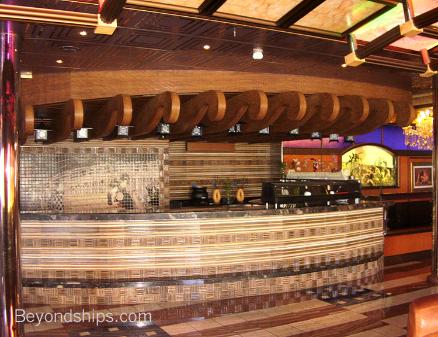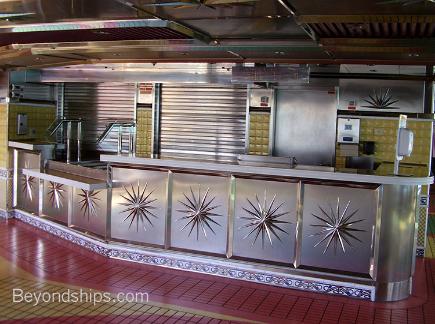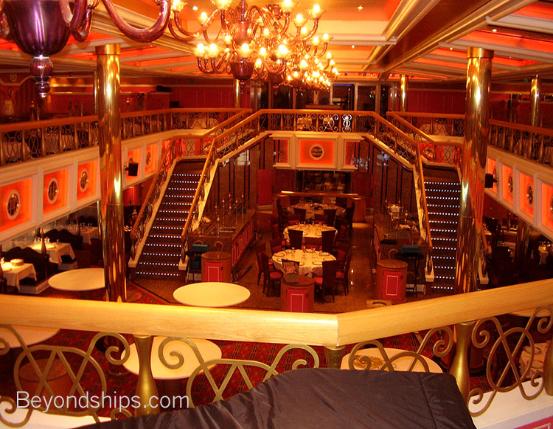 Carnival Valor has two main dining rooms.
"I choose what I thought were the most
significant of American heroes for these two
rooms: George Washington and Abraham
Lincoln," explains Mr. Farcus. As a result,
the two rooms are done in a contemporary
version of a Federal period interior.
The restaurants follow the traditional systsem
of giving each guest a reserved table and
dinner time. However, Carnival is in the
process of introducing an alternative flexible
dining system into its fleet.
The Washington Restaurant is the only one
open for breakfast and and, on sea days, for
lunch. For those meals, an open seating
system is used.
Located at the stern of the ship, the two-deck
high
Washington Restaurant
has
windows on three sides and a variety of table
sizes.

The
Lincoln Restauran
t is located further
forward, not far from the American Atrium. It too
has a balcony section and a main floor. Also, like
the Washington Restaurant table sizes range from
large group tables to tables for two. Unlike its sister
restaurant, however, the Lincoln only has windows
on two sides giving it a more sheltered atmosphere.

The alternative extra-tariff restaurant is Scarlett's Supper Club. Named for the heorine in Margret Mitchell's "Gone With
The Wind" and the classic movie of the same name, the restaurant is decorated in a style reminiscent of an antibellum
Southern mansion. In addition, bordering the dance floor is a full length mural depicting the stars of the film, Clarke Gable
and Viven Leigh, in the ballroom scene from the movie.

The menu features premium beef, lobster tail and lamb chops cooked individually to the guest's order.

Scarlett's is not just a dining venue but rather an evening entertainment complex with its own bar, stage and dance floor.

Valor's buffet,
Rosie's Restaurant
, pays homage to Rosie the
Rivoter, the fictional character used during World War II to portray
the American women who were participating in the war effort by
performing jobs that had previously been only opne to men. A giant
mosaic of the World War II poster of Riosie (left) occupies one wall
of the two deck atrium at the center of the buffet.

The restaurant is located high on the ship and the seating offers
good views over the sea and other surroundings. In addition, it is
conveniently located between the two main pool areas.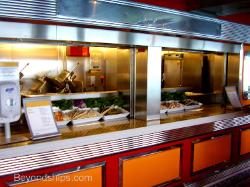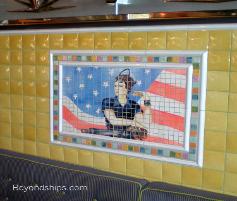 The buffet complex includes several
different stations serving different
cuisines and styles of food.
The
Deli
(left) serves made to order
cold cut sandwiches.
The
Oriental
station offers Asian
specialties. In keeping with the 1940s
theme of the buffet area, both of these
venues are styled after a 1940s
American diner.

Upstairs in the two-deck
high atrium is the Fish
and Chips station
(left), which specializes
in the traditional British
favorite.

By the Argonaut Pool
guests can find
hamburgers and other
light fare (right).

In the Prometheus Pool area, guests have a choice of hamburgers
and light fare at the
Prometheus Grille
(above) or the ship's

Pizzeria
(right).

Below on Promenade Deck, there is the
Togo Sushi
bar (above)
and the
Java Cafe
(below), which offers specialty coffee and
pastries.

























Click to GO BACK